---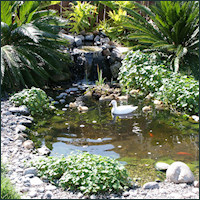 This service is designed for the homeowner who enjoys his or her pond, but doesn't quite have the time to maintain it or just would like not to have to deal with the maintenance aspect of their water feature. This is where we come in.
We will be more than happy to accommodate you by maintaining a well-balanced eco-system for you whether you need us once a month or once a year.


This service is $150 per visit (1st hour) plus $50 for each hour after (if needed). The following work is included in the service call:
Clean skimmer basket and filter pad
Add "beneficial bacteria"
Replace rock and gravel that has been displaced
Harvest aquatic plants as needed
Check for any leaks and repair if needed
Check the "auto-fill" water valve, adjust if needed
Check pond water level, fill if needed
Check Biofalls filter pads, clean if needed
Check overall clarity of pond water
Check for excessive algae growth
Make recommendations
Any additional product needed will be an added cost. Schedule of service visits: monthly, every other month, twice a year or once a year.
---
---
---
POND EQUIPMENT THAT WE INSTALL AND SERVICE
PUMPS
Alpine
Aquascape
Aquasurge
Atlantic Tidal Wave
Cal Pump
Little Giant
OASE
Pondmaster
Pro-Eco
Savio
Sequence
Shinmaywa
Tsurumi
Valuflo

SKIMMERS
Aquascape
Atlantic Water Gardens
Helix
OASE
Pro-Eco
Savio

BIOLOGICAL FILTERS
Aquascape
Atlantic Water Gardens
OASE
Savio

PRESSURIZED FILTERS
AQUA-UV Ultima II
OASE
Pro-Eco
Pondmaster