---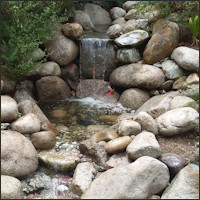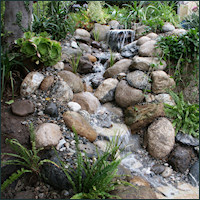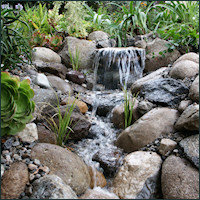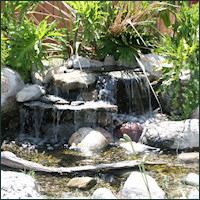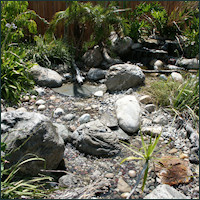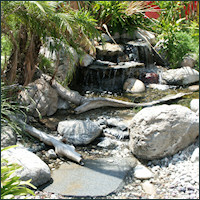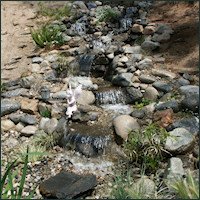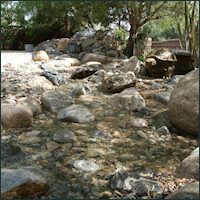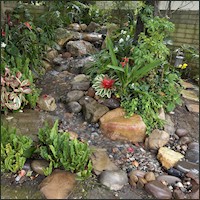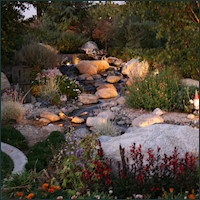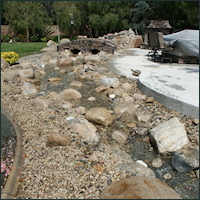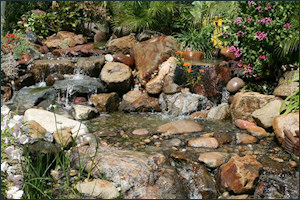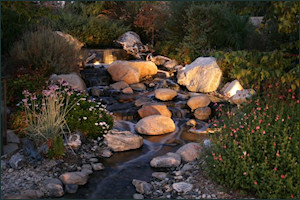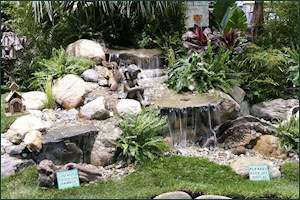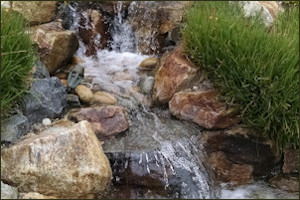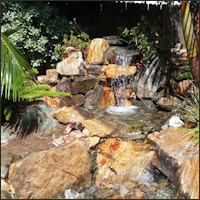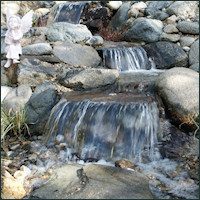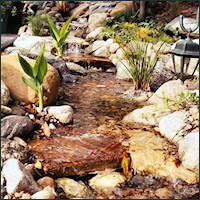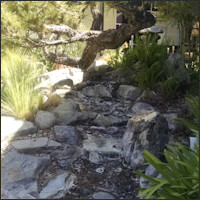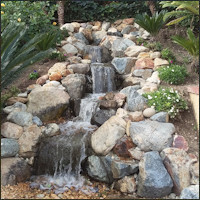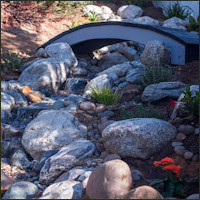 ---

Great alternative for a front yard pond; fits in small spaces where a pond might be crowded.
Perfect for public setting where liabilities of a pond are a concern.
Virtually maintenance - free! Simply refill the reservoir every few weeks to compensate for water loss due to evaporation.
Energy efficient - no ecological need to run the system continuously.
Set a timer - ideal for vacations and night/day settings.
No ecosystem (fish and plants) to worry about.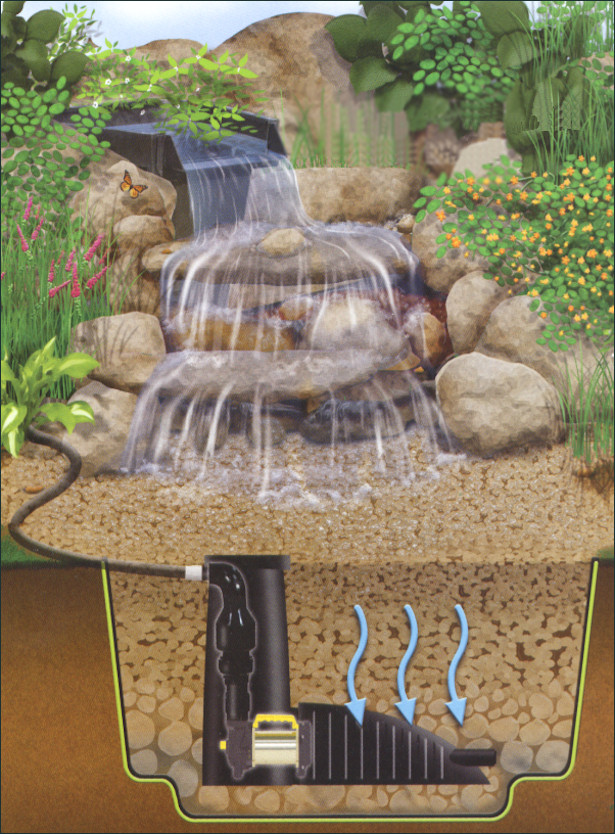 ---

SAFETY
If you have small children and safety is a concern, you can start with a Pondless Waterfall. With the simple addition of a skimmer and larger liner, you can convert your system to a pond when the kids are older. MAINTENANCE
Some people feel that taking care of fish would be a little too much of a responsibility, and that they won't be able to leave their pond for long periods of time, while other say they do not have enough time for a whole pond. The Pondless Waterfall is virtually maintenance-free! COST
The cost of a Pondless Waterfall is usually less than a full-blown pond, and waterfalls can be placed on a timer for electrical savings. APPEARANCE
Freshen up the entrance to your office of home. A Pondless Waterfall can add great curb appeal to any home or business looking to add to the aesthetic value of their property. The low cost and easy maintenance make this system an easy choice for those wanting to add some zest to their existing landscape plan.
---

WHY IS IT CALLED A PONDLESS WATERFALL?
Since the water level never pools above the level of the rock and gravel fill, it gives the appearance of a pondless waterfall. WHERE DOES THE WATER COME FROM?
A hole, deeper than a normal pond, is dug, then lined and filled with rock, gravel and water. The water is then circulated from beneath the rocks and gravel by a pump that sits on the bottom. WHERE DOES THE WATER GO?
The water runs through a pipe up to a filter and down a constructed waterfall and stream, where it falls back into the reservoir. WHAT IF I WANT TO ADD A POND LATER?
A Pondless Waterfall is almost a stepping-stone for people who might be interested in a full-fledged pond in the future. If your contractor is resourceful, they'll make sure they leave enough room for a pond to be added later. For more frequently asked questions about water features, please click here.
---

Add value and beauty to your existing pool or spa with a Natural Rock Waterfall. The average rock formation is 5' high x 12' wide. There is no damage to your pool deck or coping. Best of all, it only takes 1-2 days to complete. To find out more, please dont' hesitate to contact us.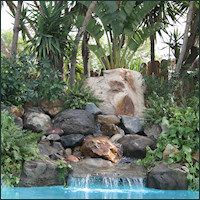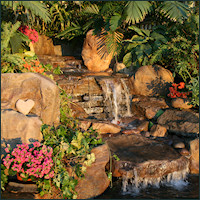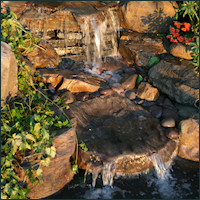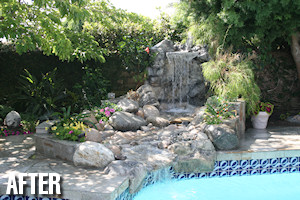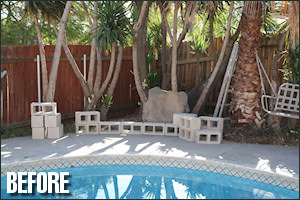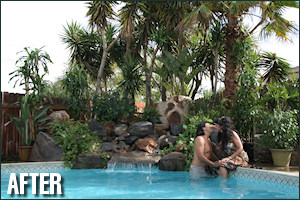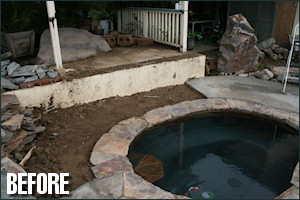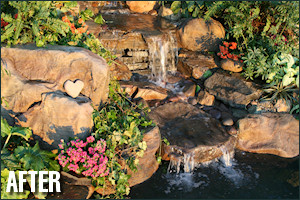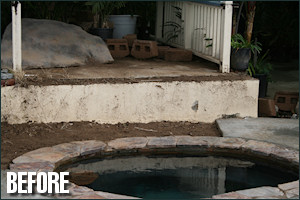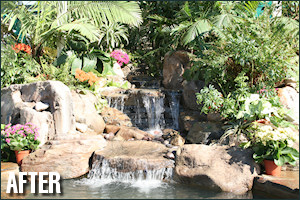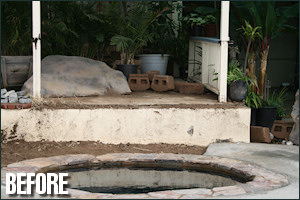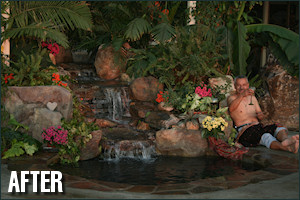 ---
---
---
POND EQUIPMENT THAT WE INSTALL AND SERVICE
PUMPS
Alpine
Aquascape
Aquasurge
Atlantic Tidal Wave
Cal Pump
Little Giant
OASE
Pondmaster
Pro-Eco
Savio
Sequence
Shinmaywa
Tsurumi
Valuflo

SKIMMERS
Aquascape
Atlantic Water Gardens
Helix
OASE
Pro-Eco
Savio

BIOLOGICAL FILTERS
Aquascape
Atlantic Water Gardens
OASE
Savio

PRESSURIZED FILTERS
AQUA-UV Ultima II
OASE
Pro-Eco
Pondmaster